Depending on where you're moving, how many items you're moving and a slew of other factors, you need to decide whether to hire a moving company or tackle the job yourself. Before making your final decision, read through these pros and cons, plus a bonus option for the less-traditional move.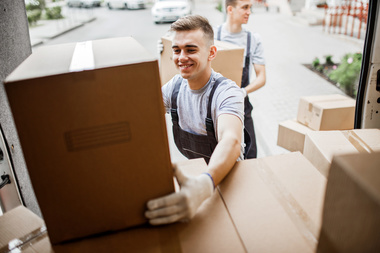 Moving yourself pros
More cost-effective: A DIY move can save you money on paying movers an hourly or flat rate. Depending on the company you go with, hiring movers can cost thousands of dollars!
No scheduling conflicts: Rather than being beholden to the moving company's schedule, moving yourself gives you much more freedom.
Ensure precious items are protected: If you move on your own, you can be sure that anything valuable or precious remains safe under your care.
Save money for furnishing your new digs: Many people move themselves because they would rather save money for furnishing their new place or start an in-case-of-emergency fund for home repairs.
Cons
Time-consuming: If you don't have a lot of time on your hands, you should consider hiring movers.
Stressful: Moving yourself requires a lot of physical and mental strength. That's why people turn to professional movers.
Moving truck fees, gas and tolls: Make sure that a DIY move is actually more cost-effective than hiring movers. Factor in the cost of a moving truck, gas and tolls before making a decision.
Hiring movers pros
No heavy lifting: If you hire a moving company, you can rest assured that you will not pull a muscle or break anything while trying to maneuver heavy furniture out of your current home and into a new one.
Insurance to protect valuables: If anything gets damaged during the move, moving companies come with insurance that will cover the cost of anything that doesn't make it out alive.
Huge time-saver: If you're short on time, a moving company can swoop in to save the day. It can even offer packing and unpacking services to make your life simpler!
Very efficient: Moving companies offer professional services, meaning that the men and women you hire can get your items in and out in a timely fashion. If you decide to go it alone, that might not be the case.
Cons
Extremely expensive depending on the packages: Before you get too excited about someone else packing and unpacking your home for you, be aware that adding on this service will increase your bill astronomically.
Insurance doesn't mean your items won't get damaged: If your goal is to not have anything broken, then the insurance a moving company offers won't be worth it to you. No amount of money can replace a family heirloom or other priceless item.
Less control over scheduling: If you hire movers, know that they may not be available on the date you need.
Consider a portable storage unit
If neither of these options impresses you, try looking into portable storage units. Typically, the storage company will bring the container to your home so that you can pack it with your belongings and then bring the container back to its storage facility.
Some people go this route if they are in the process of selling a home and want to move some of their belongings out of the home to stage it for buyers. Or if you're doing a home renovation, a portable storage unit is a good option.
What does it boil down to? 
Take note of all the pros and cons mentioned above before you decide on movers or a DIY move. Your unique situation will impact the best option for you. Make sure you do the numbers and that you're getting the right deal for your situation.
Feel free to contact us at any time for questions on how to make your next move as seamless as possible.