True story. The wood in our living room is scratched and worn, the dark tile in the kitchen imparts a sort of cave-like feel, and there's unfinished concrete in several of the bedrooms thanks to foundation repair that was done shortly after we bought the house. We could have had the four burly men that peeled away the 10-year-old carpet to jackhammer into the floor lay it back down, but, instead, we took that opportunity to rid ourselves of the it and thanked the guys for sparing us the cost of a dumpster. The idea was to get new floors in soon after, and, well, three years later…here we are. Still considering our options.
Add to that picture a couple of bathrooms that were tiled in 2004 when textured beige-y brown tiles were popular (they were, right?), and we are facing multiple rooms that need new floors. The entire first floor needs new floors, if we're being honest.
And while we have examined many, many (really, it seems like hundreds) of options over the last couple of years, nothing has stuck well enough to actually get to it. Part of the issue is that we don't want to hand over the installation to someone else. While that would probably be the most practical option, it's not the most economical, and we tend to like to do things by ourselves. You, too? Then come with us on this journey to find the best DIY solution to our (and your!) flooring dilemmas.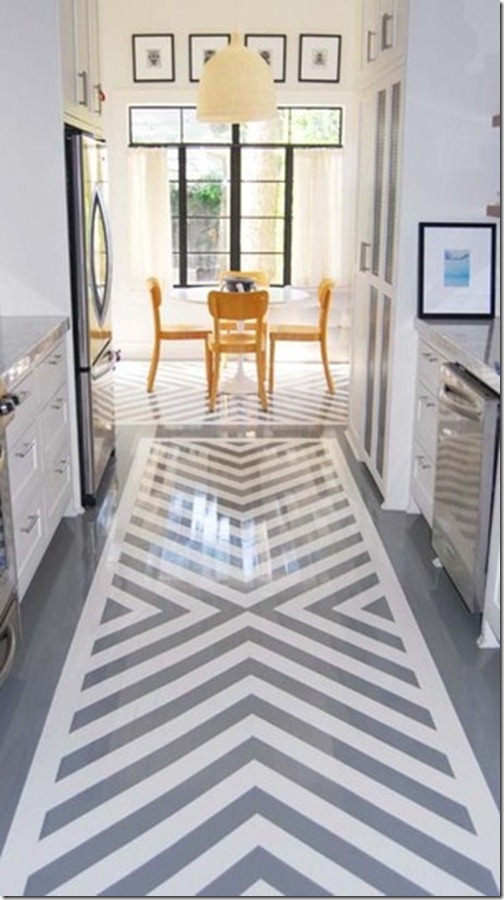 Painted woodFrankly, anything that starts with "Sand surface" is an immediate turnoff. If they ever made a National Lampoon's Renovation Vacation movie, there would undoubtedly be a scene where Chevy Chase's Rusty Griswold lost control of the electric sander and major havoc ensued. That's pretty much what we envision happening around here if a big, hulking sander is involved. That notwithstanding, painted wood floors do look pretty cool.


SF Gate has a good tutorial for painting heavily trafficked wood floors that involves really good preparation (so if you're a step-skipper, maybe not for you) and high-quality primer, but, honestly, we're skeptical about smooth floors that look like the above.
But, we're loving the rustic beach-ness of this look. Our shabby floors are already part of the way there, and if the dogs scratch the surface, it just adds more texture, right?
We first saw blogger Remington Avenue's tutorial for painted floors in 2015, which should tell you how long we've been tossing around ideas for our floors. She crafted a stunning painted tile floor using chalk paint and a stencil that created a trendy Moroccan cement tile look.
Stencils have become more readily available and in greater variety since then, and her new tutorial is even more interesting because she used luster epoxy paint, like you would use to paint a garage floor. That spells greater durability, and since multiple children and multiple dogs live in this house, finishes that can't endure kid feet and dog paws are a NO GO.

Should we do it? This would be a jackpot for that cave-like kitchen floor and beige-y brown bathroom tile floors (that look just like her "before" floors, ironically).
Floating floor
First, let's get This Old House's take: "It's hard to imagine a house being cozy without the warmth of wood flooring. The quickest way to get new wood underfoot is to install a floating floor. Unlike traditional solid-wood strips, a floating floor isn't nailed down. Instead, the planks are either glued or snapped together. The planks go down fast, over virtually any material – concrete, plywood, sheet vinyl, even ceramic tile. They have a complete tutorial here.
Now, our thoughts: The advantage to using a floating floor is that it's definitely DIY friendly in comparison to numerous other options because it requires no demolition under than removing baseboards – something we wouldn't have to do if we were painting the existing surfaces, BTW. We would have to put down plywood on the concrete surfaces to make everything flush, but that's not a big deal. The continuity that would be created by laying down one surface throughout the first floor of the house would be a dream given how broken up it currently is. The downside: it's a pricier solution than paint, and the price, not surprisingly, goes up with the quality. Whether you are looking at using luxury vinyl planks, laminate, or engineered wood), it's an investment.
Carpet tiles
We just haven't been able to get rid of the idea of a soft, cushy carpeted surface in the bedrooms, but we're not about to try to put in wall-to-wall carpet on our own. "I wouldn't recommend any homeowner try to install their own wall-to-wall carpeting," said Popular Mechanics. "First, just getting the carpeting into the room is a huge job. Second, precisely cutting it to size takes experience – one wrong cut can ruin the entire piece."
The potential answer: carpet tiles. Oh, we know. We say "carpet tiles," you say "ugly office building," right? Fortunately, carpet tiles have come a long way in terms of design. The carpet tiles below from Flor and these that are are our favorite newer release are beautifully textured with a great neutral color palette.
The best part: they're super easy to install. "One 3-inch-diameter dot is placed at each corner of a carpet square, with the sticky side up," they said. "The next square is set in place tight against the first square, and then it's pressed down onto the adhesive dots. In the end, the result is a floating floor of carpet squares all stuck together at the corners by adhesive dots."
Actually, this may be the best part: Remember those previously mentioned kids and dogs? They make stains. Lots of stains. If one area of your wall-to-wall carpet gets stained beyond repair, you're out of luck. If the same thing happens to a carpet tile, you rip it up and set another one down. Tempting. Very tempting.