Unsure where to start when it comes to choosing the right lighting for your kitchen? That's understandable. Although there are a lot of options, many of them fall into one of the four categories below. Once you decide what category or combination of lighting you want in your kitchen, you can look into the various choices available. But first, let's start with the basics.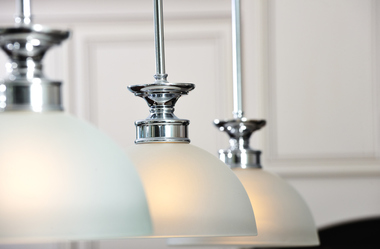 Task Lighting
Task lighting will give an area of your kitchen more concentrated light. To put it plainly, the purpose of task lighting is to help you see what you're doing. You can hang a task light over a kitchen island where you do all your chopping and prepping, over the stove or other areas in your kitchen that get a lot of use.
People also consider mounted lights under a cabinet or on the wall as a form of task lighting. This provides an even more direct light source, but you have to be careful about how you place it to ensure that it doesn't create harsh shadows over other parts of your kitchen.
Recessed Lighting and Track Lighting
Recessed lighting is a series of lights that brighten a room. It is also referred to as pot lights or can lights because of their inconspicuous nature. It's a method of adding light to your kitchen that disappears into your ceiling.
You can also install a series of lights on a track, although this doesn't give a seamless effect like pot or can lights. As the name suggests, these lights run on a track and snake around the ceiling in a way that offers the most light where you need it.
Ambient Lighting 
This is the most basic type of lighting you can opt for. It creates a blanket effect as a means to brighten a room. It will add an efficient amount of light for you to get things done around your kitchen, but nothing more. It's not meant to help you achieve detailed projects — that's a task light's job.
Many people opt for ambient light because it's simple and for the most part effective, but also because it will brighten your kitchen in a more natural way. It won't cast as many shadows as track lighting or a pendant light (we'll get to those). For more concentrated light, you can pair ambient lighting with some form of task lighting.
Pendant Lights 
Pendant lights can work in a couple of ways depending on where your light source is facing. You can choose an inverted pendant light that will cast the light upward and thus function more like ambient lighting. Or you can choose a pendant light that casts light down, causing it to act more like task lighting. So, the type of pendant light you choose depends on the kind of lighting you require.
A chandelier is a type of pendant light that many people opt for because of its elegance and ability to elevate a room. A pendant light typically adds a bit more style to the room you use it in, which is why it's so popular.
For tips on lighting all the rooms in your home, give us a call today 401-519-5275. We love sharing our tips and expertise. Visit our Website