You don't have to transform your entire kitchen to feel like your kitchen has been upgraded. All you have to do is update some of your kitchen hardware, like the knobs on your cabinets or the handles on your drawers. You'll get that new kitchen feel for a fraction of the cost. However, choose your new hardware wisely.
Here are 3 trends in kitchen hardware to keep an eye on.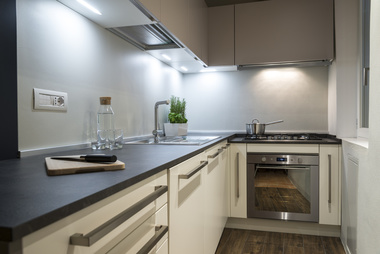 1. Artsy knobs
The great thing about the term "artsy" is that it's totally up to your interpretation and discretion. You can take your pick of colorful knobs, varying sized knobs and knobs of many different styles. Got a theme for your kitchen? Go all out by getting knobs that matches your vision.
Whatever your method of madness, personalize your kitchen in the subtlest and classiest of ways so you can impress guests. You can peruse the knob section at Home Depot or Lowes for ideas, or you can check out what's new in the DIY section of the internet.
2. Bar handles
You can make your kitchen seem more modern and sleek without replacing a single panel or back-splash tile. Just incorporate long, straight lines in your kitchen with bar handles.
These handles are most commonly seen in restaurant kitchens: They're long and slim metal bars that run the length of drawers. They're not only great for design but also for utility. You can be completely engrossed in a recipe, reach over to grab a drawer handle and grasp it every time, without fail.
Now, if you have a theme for your kitchen, these handles are maybe not the best way to go. If you're going for minimalist and even futuristic vibe, these handles are for you.
3. Finger handles
Although they may look like it, finger handles aren't actually tiny shelves for mice (knock on wood that there aren't really mice in your kitchen). These flat, stainless steel handles work great for the lower, base cabinets in your kitchen. Just slip a finger or two under the small lip of the handle to open your cabinets.
They look great and they're completely functional. No more bending down to open a cabinet just to discover the pot you were looking for wasn't even in there.
Pro tip: Updating the hardware in your kitchen is a great way to spruce up your kitchen before showing your house to prospective buyers. When you're ready to sell your home, give us a shout. We're here to help.